Parent Group
The role of Parent Group is twofold: it is both a social vehicle and a fundraising arm.
Funds raised by Parent Group in the past have contributed to our school environment, for example, Interactive Whiteboards in classrooms and a passive play area covered in synthetic turf.
The social aspect is equally important, it is through such events that we make our school community warm, vibrant and supportive for both children and parents.
Parent Group meet every Tuesday morning in our Parent Group room, next to the canteen. You are most welcome to attend.
School Council
School Council plays a key role in Victorian Government Schools. Acting as a team, council supports the principal to provide the best possible educational outcomes for students. Council meets regularly, at least eight times a year, and consists of our Principal, Assistant Principal, DEECD employees, elected parents and co-opted members.
Our Cyber Safety practice is to ensure that we support and empower ALL Australian students to be safe and responsible users of digital technologies both at home and school, we must arm ALL teachers, parents and the wider community with digital literacy skills and resources.
The Cyber Safety Project teams with school communities to ensure all school leaders, teachers and parents are kept up-to-date with the latest trending digital topics. We must provide space and time to learn and understand the way students can connect and interact through digital platforms, devices, sites, apps and gaming networks.
The core outcomes of our program include
​Teachers know relevant digital citizenship elements of the digital technologies curriculum, ethical and social responsibilities
Teachers are aware of and understand current digital literacies and trends impacting on young people in their care
Teachers are able to design learning to achieve the cyber/digital technologies outcomes for students​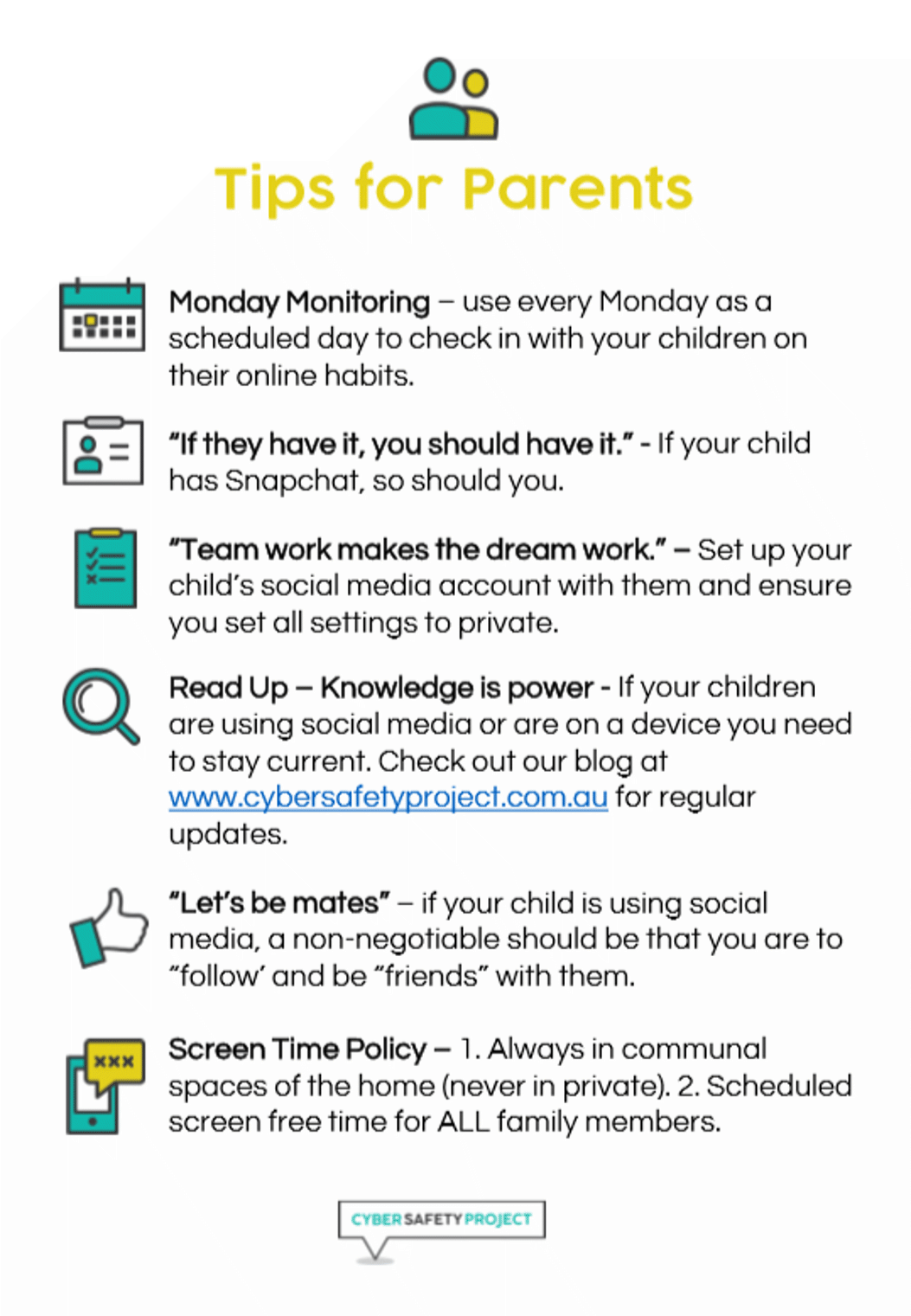 Before, After & Vacation Care
TeamKids Before & After Care, Vacation Care.
TeamKids is the premium provider that exists to enrich children's lives before school, after school and throughout the school holidays.
Before & After Care Available Here!
When attending TeamKids before and after school care, your children are in remarkable hands. Our full-time Director of Service is highly experienced in the field, and their number one priority is fun – your child will love the experiences we have on offer every day at TeamKids.
When children join our team, not only are they able to explore their world through our designated activity zones and TeamKids Clubs, but they'll get to connect, collaborate and learn with others in a supportive and nurturing environment that fosters their individuality and own unique interests.
They'll also enjoy an incredible menu, jam-packed with nutritious and delicious food. One thing is for sure, your child will not go hungry.
From the moment you walk through the door, TeamKids provides an atmosphere that is welcoming, relaxed and inclusive. At every opportunity, we aim to promote child agency and help to shape their innate leadership skills through a variety of in-house leadership opportunities and fun, engaging rewards programs.
We offer industry-leading educator to child ratios of 1:10 (industry standard is 1:15), resulting in safer, better supervised experiences for all involved.
All of our programs are fully approved under the National Child Care Subsidy (CCS).
We're excited and look forward to welcoming you to the TeamKids Family.
To find out more, register or book, click here 
TeamKids
Phone number – 1300 035 000
Website – www.teamkids.com.au